Operating while in the womb
"Fetal surgery is a unique field in maternal-fetal medicine," said pediatric surgeon N. Scott Adzick, M.D., medical director of the Center for Fetal Diagnosis and Treatment (CFDT) at The Children's Hospital of Philadelphia. "Many of these babies were already too sick for us to treat them successfully after they were born. This dilemma led to the development of fetal surgery. Some of the fetal anomalies we treat are so rare that a physician may encounter them only once or twice in a career. However… we have an expanded range of conditions for which we may devise ways to intervene before birth with clear benefits."
Science Daily, 21 February 2010
---
What is foetal surgery?
It is surgery on a child yet to be delivered. It can be performed in three ways: open surgery, laser surgery, or the pre-delivery EXIT procedure.
Open foetal surgery (cutting into the abdomen and uterus to operate on the foetus) allows doctors to remove abnormal masses or patch an opening. Open surgery can repair many conditions including:
Potentially fatal diseases which threaten the heart or could cause haemorrhage (e.g., lung masses compressing the heart, sacrococcygeal teratomas (tumors attached to the baby's tailbone)
Spina bifida, a birth defect in which part of the spinal cord is unprotected by skin and tissue. Without intervention spina bifida can cause hydrocephalus, mental retardation, bowel and bladder problems and lifelong paralysis.
Watch this video on open foetal surgery from the Fetal Treatment Centre at the University of California
Laser surgery can repair twin to twin transfusion syndrome (occurring in 10-15% of identical twins), in which one foetus grows while the other atrophies, due to abnormal blood vessel connections. A laser seals off the dangerous blood flow, giving both twins a chance to grow normally to term. Foetal bone marrow transplantation successfully treats severe combined immunodeficiency disease (SCID).
EXIT procedure, a partial delivery method in which the baby is still attached to the umbilical cord and placenta, allows surgeons to repair airway blockages, congenital diaphragmatic hernia, thoracic and bladder shunts, foetal anaesthesia, and the ex-utero intrapartum therapy (EXIT) procedure.[1]
---
Foetal Surgery in Ireland
Ireland has recently entered the exciting medical field of foetal surgery. Repair of Twin to Twin Transfusion Syndrome was pioneered in 2007. [2] The Dublin-based Royal College of Surgeons in Ireland devotes significant research to Twin to Twin Transfusion Syndrome (TTTS) and advanced foetal surgery. The Department of Obstetrics and Gynaecology at RCSI has established a centre at the Rotunda Hospital in Dublin to develop and provide advanced foetal surgery techniques. Here they will focus on TTTS, congenital diaphragmatic hernia (CDH), spina bifida and developing foetal balloon surgical techniques. [3]
What are the risks and how do doctors minimise them?
Foetal surgery is one of the greatest acts of love a mother can undertake. Boston Children's Hospital, one of dozens of USA hospitals that perform foetal surgery, details the risks to the mother: bleeding, infection, preterm labour and rare complications of anaesthesia are possible. Foetal surgery is only performed if the lifesaving or healing benefits to the foetus outweigh potential risks.
To control these risks, mother and foetus are closely monitored. Mothers receive pain control medications as well as medications to prevent pre-term labour. Babies receiving foetal surgery—as well as subsequent children—will be born via Caesarean section due to the surgical scars caused by the open surgery.[4]
What birth defects have been treated successfully by foetal surgery
Children's Hospitals of Philadelphia (CHOP) is the flagship foetal treatment facility in the USA. Birth defects treated at CHOP using foetal surgery include:
Amniotic band syndrome
Bronchopulmonary sequestration of the lung
Congenital cystic adenomatoid malformation of the lung (CCAM)
Congenital diaphragmatic hernia (CDH)
Congenital high airway obstruction syndrome (CHAOS)
Intrauterine transfusion (IUT)
Lower urinary tract obstruction (LUTO)
Mediastinal teratoma
Neck mass
Pulmonary agenesis
Sacrococcygeal teratoma
Spina bifida/myelomeningocele
Twin reversed arterial perfusion sequence (TRAP sequence) [5]
---
Foetal Surgery in Action
Surgery for Spina Bifida
The Children's Hospital of Philadelphia, USA, take us through their process for operating on a child in the womb, the risks, precautions and procedures: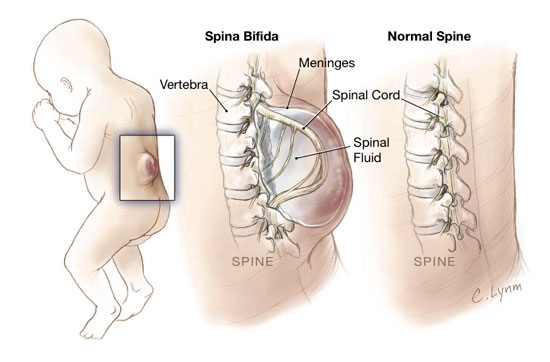 Children who have undergone prenatal repair surgery for spina bifida are less likely to require a shunt to drain excess fluid from the brain than children who have the surgery after birth.
Surgery for Heart Defects
Medscape details how foetal surgery can repair a number of heart defects. In 1975, the first beta-blocker medication was used in-utero to cure a dangerous ventricular tacharrhythmia. In 1986, the first open foetal surgery was performed, where a baby was given a pacemaker in utero! Balloon valvuloplasty (to repair blocked vessels) was first performed in the 1980s.[6]
---
Surgery for Malforming Bladder
Surgery for Malforming Lung and Heart
Every successful foetal surgery offers physicians and researchers more information and more hope to develop more life-saving and life-changing procedures in the future!
---
Personal Stories
Tyson Thomas
'Results were dramatic for Tyson Thomas, of Stansbury Park, Utah, now 22 months old. His mother, Jessica Thomas, said doctors described his brain malformation as 'the worst they had ever seen,' and said 'it would be likely that he wouldn't be able to breathe on his own.'
Since birth at 35 weeks gestation, she said Tyson breathes independently, shows no brain stem malformation and is starting to talk. Bladder nerve damage will require him to urinate through catheters all his life. He now uses a walker and a foot brace, but 'is getting really close to walking on his own,' said Ms. Thomas, a nurse.'
'Success of Spina Bifida Study Opens Fetal Surgery Door,' 9 February 2011, New York Times, http://www.nytimes.com/2011/02/10/health/10fetal.html?_r=0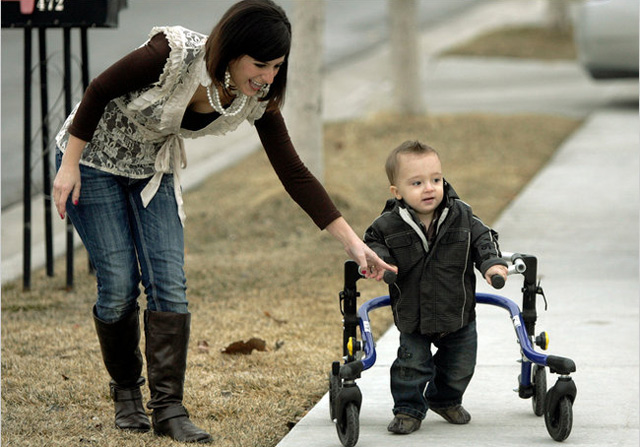 Addison Kelly
'On Nov. 7, 2006, Mary Kelly went for a routine pregnancy ultrasound. Three days later, she and her unborn daughter had become pioneers. Kelly and her daughter, Addison, now 5 years old, were the second mother and child to undergo a foetal surgery procedure where doctors removed a tumour between the heart and lungs that was causing heart failure and foetal hydrops — a condition where Addison was taking on so much fluid that she would not likely survive.
Over those three days, Kelly underwent tests and met with doctors to discuss her options. With her pregnancy only 26 weeks along, those options included monitoring the pregnancy and waiting, or inducing labor — and in both of those cases, the baby would likely die. Kelly and her husband opted for a third choice, foetal surgery, which gave their daughter a 50 percent chance of surviving. While the surgery was successful, a few days later, Mary Kelly went into preterm labor. Addison Hope Kelly was born almost three months premature. Although Addison faced a multitude of challenges in her young life, and did not even come home from the hospital until she was almost a year old, she will begin kindergarten this fall.
"You look at her, and you would not know she went through any of this. Addison needs ongoing observation and requires a machine to ensure she keeps breathing at night", but she has "nothing terrible, which is truly amazing," Kelly said.
'For Tiniest Patients, Fetal Surgery Delivers Big Results.' NBCNews.com, 17 July 2012 http://vitals.nbcnews.com/_news/2012/07/17/12790955-for-tiniest-patients-fetal-surgery-delivers-big-results?lite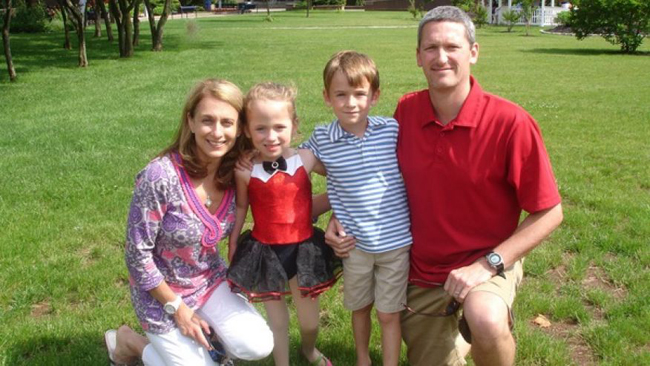 Brett Hallman
'Hallman said she decided to have the (spina bifida repair) surgery on her unborn son when she learned he was less likely to develop the common spina bifida-related complication hydrocephalus, water on the brain. Her son Brett had the surgery on January 25, 2003, at Children's Hospital a few weeks before the clinical trial began.
Brett, now 7, plays baseball and swims. "You would never know to look at him that he has spina bifida," his mother said. "He does have some bowel and bladder issues, which are also common for this disease, but they are manageable", she said. She maintains that the surgery afforded him a much better quality of life and thinks this could change things for future generations.'
'Study: Major benefits for spina bifida surgery in the womb,' CNN.com, 9 February 2011
Jocelyn Nino
After an abnormality was found at 21 weeks during a routine ultrasound, Geneva Nino was told that her unborn baby had a congenital cystic adenomatoid malformation (CCAM) – a large mass in the lower part of her left lung.
Doctors decided it would be best to bring Jocelyn into the world using the EXIT (ex-utero intrapartum treatment) procedure. On March 10, 2004, Jocelyn was delivered through an abdominal incision, but remained connected to the umbilical cord to allow her to maintain placental support while the CCAM was surgically removed.
On April 1, Jocelyn was taken off the ECMO (extra oxygen) and began to gradually and steadily improve. She remained in the Newborn/Infant Center for two and a half months, then was released to Riley Children's Hospital in Indianapolis on May 20.
Jocelyn began physical therapy and occupational therapy at 3 months of age. She has now graduated from PT and OT, and is starting speech therapy.
'No Stopping Her Now: Once Too Fragile to Hold, Jocelyn Nino is a Bundle of Energy,' Children's Hospital of Philadelphia Center for Fetal Diagnosis and Treatment, http://www.chop.edu/service/fetal-diagnosis-and-treatment/patient-stories/jocelyns-ccam-story.html
References and Sources
[1] Foetal Surgery continues to advance, Science Daily, Feb. 21, 2010 http://www.sciencedaily.com/releases/2010/02/100216113859.htm
[2] http://www.rcsiwomenshealth.ie/documents/20.07.07.pdf
[3] http://www.rcsi.ie/index.jsp?p=398&n=511
[4] http://www.childrenshospital.org/az/Site891/mainpageS891P0.html
[5] http://www.chop.edu/service/fetal-diagnosis-and-treatment/about-our-services/fetal-surgery.html
[5] http://www.rcsiwomenshealth.ie/documents/20.07.07.pdf
[5] http://www.rcsi.ie/index.jsp?p=398&n=511
[5] http://www.childrenshospital.org/az/Site891/mainpageS891P0.html
[6] Foetal Surgery for Congenital Heart Disease, MedScape: http://emedicine.medscape.com/article/2109511-overview